Pac 120
Three Arm Pickup, Three Arm folded leaflet unit and Pacmac's innovating synchronization module allows the Pac120 to fully synchronize and pack Tubes, Blisters, Vials, Soaps, etc into mono cartons. Designed for minimal change over time.
Product Specifications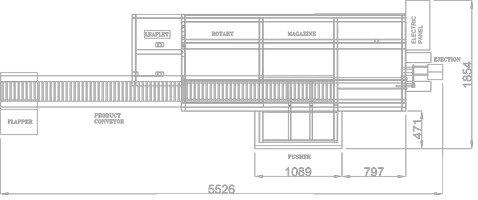 Machine Length

5520 mm

Carton Length

45mm-90mm (2/3 Belt Model)
90mm - 215mm (4 Belt Model)

Machine Width

1850 mm

Carton Width

18mm - 75mm

Machine Height

1770 mm

Carton Height

16mm - 50mm

Folded Leaflet Length

110mm - 200mm

Folded Leaflet Width

15mm - 45mm

Carton GSM

250 - 350 g/m2

Leaflet GSM

60mm - 70 g/m2

Power Requirement

4 KW

Air Requirement

10 CFM
Get Access to 150 Hours + of Pac120 Documentation & Request On Site or Remote Training

Login for over 150 hours of video tutorial of machine setting, change overs and maintainance schedule.

Request for a Quotation?

We pride in pricing our products right, request a quotation for Pac120 and we promise to give you the best rate in 24hours.